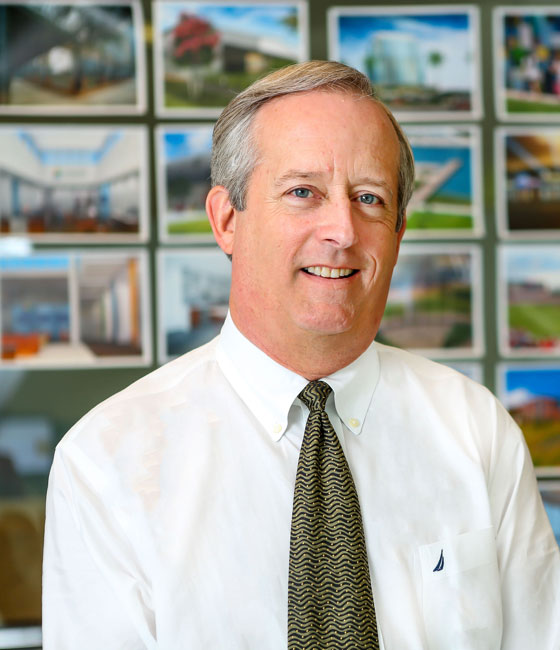 Robert Mease
AIA, NCARB
Principal
Biography
Bob Mease has over 35 years of experience as an architect, much of it in the role of senior project manager for high-technology and corporate sectors. However, Bob's portfolio is extremely diverse, which signifies his expertise in management and coordination of large-scale projects, skills that many of his clients acknowledge and applaud.

Bob's key contribution to Page's continued success is his ability to choreograph the interrelated efforts of multiple consultants, vendors, contractors and other team members, and various agencies. With his rigorous attention to the design and building process, Bob has helped the firm deliver very complex and large projects. While such diligence is a personal trait, Bob says he thrives within the firm's collaborative culture.

"I am personally and professionally energized through collaborating with others, and the whole of what we can achieve together is far greater than what we can accomplish alone," he explains, adding, "Regarding my profession, I believe that commitment fosters imagination and creativity, allows vision, and gives us the right stuff to turn our dreams into reality."

One of Bob's personal favorite quotations is from Albert Einstein, and it emphasizes Bob's outlook on life and work: "You have to learn the rules of the game. And then you have to play better than anyone else."
In striving to always do his best, Bob finds motivation through his volunteer work with the Susan G. Komen Foundation, the nonprofit dedicated to saving lives threatened by breast cancer. As Bob says, "I have had opportunities to experience those who were once at the point of unimaginable despair in their lives, draw upon the inner strength to not only survive but inspire and encourage all of us. The strength and drive to overcome such adversity is an inspiration to live by."
For more than sixteen years, Bob has been involved as the organization's Race for the Cure Course Director, its Race Chair, and as an ongoing member of Race Leadership Team. His long-time service earned him the Susan G. Komen National Promise of One Impact Award.
Not surprisingly, Bob points to the University of Texas at El Paso's College of Health Sciences/School of Nursing as being especially rewarding. "We had a committed and collaborative project team," he recalls. "The three key components – designer, builder, and client – worked well together to define the project, identify options, create a unique and functional design, and build a successful project that our client is very pleased with."
Bob also contributes additional time to community service for United Way Gulf Coast as assistant chair of its Organizational Review Committee; Habitat for Humanity as House Construction Team Leader; AIA Houston as a participant in its Disaster Relief Program; and the American Red Cross as a member of his local Disaster Assistance Response teams and an instructor in CPR, AED, first aid, and oxygen administration. However, his greatest achievement, he says, has been raising a wonderful daughter.
Bob earned his Bachelor of Architecture from Texas Tech University. A member of the American Institute of Architects (AIA), he is a registered architect in Texas and holds a certificate from the National Council of Architectural Registration Boards (NCARB).
Representative Projects
Publications & News