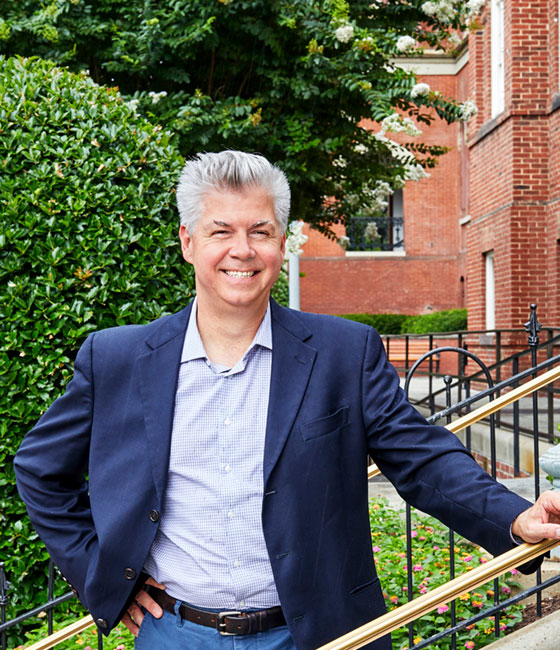 Thomas McCarthy
AIA, LEED AP
Senior Principal / Board Member
Biography
Thomas McCarthy, a Senior Principal in Page's Washington DC office, is a LEED-accredited architect with a long-standing commitment to sustainable design and responsible stewardship of client resources. Thomas effectively manages geographically and professionally diverse teams to meet his clients' needs for complex, large-scale, phased design projects. He joined Page in 1997 in Houston and moved to the Washington DC office in 2000.

Thomas has managed more than 150 design projects, including 34 U.S. Department of State embassy and consulate complexes in 31 countries, including Australia, Cambodia, Ethiopia, Finland, Madagascar, Morocco, Nicaragua, Pakistan, Republic of the Congo, the United Arab Emirates, and Ukraine. Throughout the course of his professional and personal endeavors, Thomas has visited more than 100 countries and brings a global perspective to all of his work.
Other U.S. Federal Government structures in Thomas' design portfolio include the F.B.I.'s Las Vegas Field Office; the U.S. Army Materiel Command Headquarters at Redstone Arsenal, Huntsville, AL; a U.S. General Services Administration laboratory building on Bolling Air Force Base, Washington DC; expansion of the U.S. Navy base at Camp Lemonnier, Djibouti; and many other secure domestic and international projects for the U.S. Intelligence Community and Departments of Defense, Health and Human Services, Homeland Security, and Justice. Thomas also coordinated design of the base camp for United Nations peacekeeping support in Darfur, Sudan, in 2007 during the regional civil war.
Currently, Thomas is supervising the design execution of the National China Garden, a traditional Chinese under construction at the U.S. National Arboretum in Washington DC. The 12-acre National China Garden will feature pagodas, pavilions, sculptures, and lakes, and serve as a cultural hub, horticultural research center, and exhibition venue. He also is serving as an appointed member of the Washington Building Congress Board of Governors.
Thomas' higher-education design work includes long-range facility master plans for more than a dozen campuses of the Houston Community College System; phased growth and renovation at Baylor College of Medicine, which enabled the school to continue operations during construction; an academic building and companion science laboratory at George Mason University, Manassas, VA; and a dormitory and student services building for the George Mason University-Smithsonian Institution Conservation Studies Program in Front Royal, VA.
His commercial design projects include mid-rise and high-rise office buildings in the Washington DC metropolitan area, including Carlyle Place and 1925 Ballenger in Alexandria, VA; 600 13th Street, N.W., Washington DC and the Navy League Headquarters, Arlington, VA, where his creation of flexible, attractive, and amenity-rich buildings support leasing plans at above-market rates. He also has managed complex single- and multi-family residential design projects, ranging from a 25,000 square-foot private residence to large, high-rise, multi-family residential projects where practical detailing and finishes decisions resulted in strong leasing and high client satisfaction.
Thomas earned a B.B.A. in Finance and Real Estate Development in 1988 from the University of Texas at Austin, and a M.Arch., with honors, in 1995 from the University of Houston College of Architecture. At U.H., Thomas taught CADD and Digital Design courses as an adjunct instructor, and was inducted into Tau Sigma Delta Architectural Honor Society.
Shortly after graduate school, Thomas chaired the AIA Sandcastle Competition at Galveston's East Beach, a fun-filled – yet serious! – design competition which serves as the AIA-Houston chapter's largest fundraiser. Prior to beginning his graduate studies, Thomas was an award-winning account manager at NCR Corporation's Dallas office, selling computer, ATM, and check-processing equipment to large financial clients.
Learn more about Thomas McCarthy:
America's Embassy Building Boom Fortifies Diplomacy, Security Abroad
Bringing Security Design Home
America's Embassies: First Dig Your Moat
Just Part of the Job
PageSoutherlandPage: Master-Plans Back in Play
Representative Projects
Publications & News