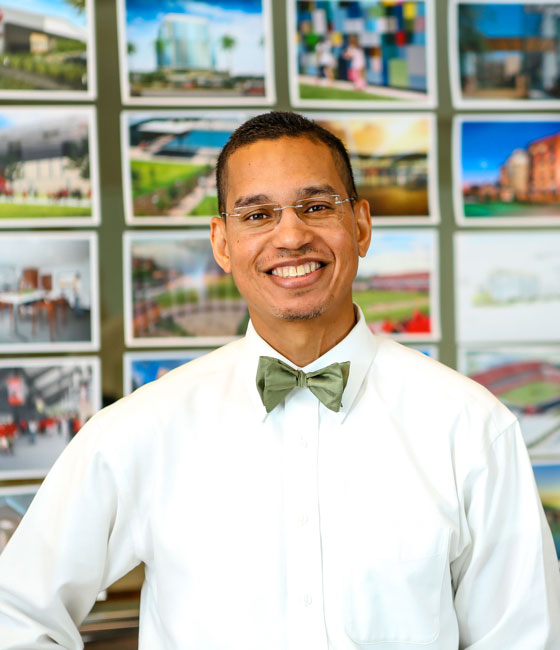 Verrick D. Walker
PhD, LEED AP, CDT
Principal / Senior Lab Planner
Biography
In the second grade, Verrick Walker won an art contest. His drawing of the famous inventor George Washington Carver harvesting peanuts netted him $25. As far as he was concerned, his dream of being an artist was set. His parents advised him that, although being an artist is an admirable aspiration, "the world is full of starving artists…"—so, he should consider other career options. Verrick created a list of potential professions that would allow him to use his artistic talents and fulfill his desire to help others. From that process, he concluded that he should become an architect. "I'm not sure how I knew at the time what architects do, since no one in my family was in or near the profession," Verrick says. "But I did know they draw houses, and houses help people."

Today, as a Strategic Consultant and Laboratory Planner at Page, Verrick does a bit more than "draw houses." His special expertise includes programming and planning for academic and corporate bioscience and petrochemical research facilities, with specific experience in the Middle East. Also a leading scholar in the field of evidence-based design in healthcare, his work has been published in nationally renowned peer-reviewed journals. At Page, Verrick is an extremely valuable part of the Science / Technology team.
Verrick really enjoys his work and, when asked about his favorite project, is unable to choose just one. He admits that as clichéd as it might sound, he's enjoyed every project of which he's been a part at Page. "In my front-end role in Science and Technology and Strategic Consulting, I get to collaborate with some really smart people, tour some really interesting places, learn some really cool things," he explains. Many of the projects have confidentiality or nondisclosure agreements; as a result, he can't discuss them. "So, I expect that there will always be some aspect of each new project that will make it my (current) favorite…that I can't talk about…"
However, Verrick describes his greatest accomplishment as a close tie between recognition as an outstanding alumnus of Prairie View A&M University in the book African American Architects: A Biographical Dictionary, and potty-training his daughter. He cares deeply about influencing young people in his community, particularly through his church and at the school where his wife teaches—because he saw his own parents helping others while he was growing up.
To the firm's three core values of Commitment, Creativity and Collaboration, which Verrick embodies in his personal life, he would add another "C"-word: Courage. He believes the most successful projects include all four aspects in equilibrium; "too much of one and not enough of the others can ruin the roux". Committed groups of really creative individuals who share ideas, distribute the load, and work together produce the most successful projects.
Representative Projects
Publications & News