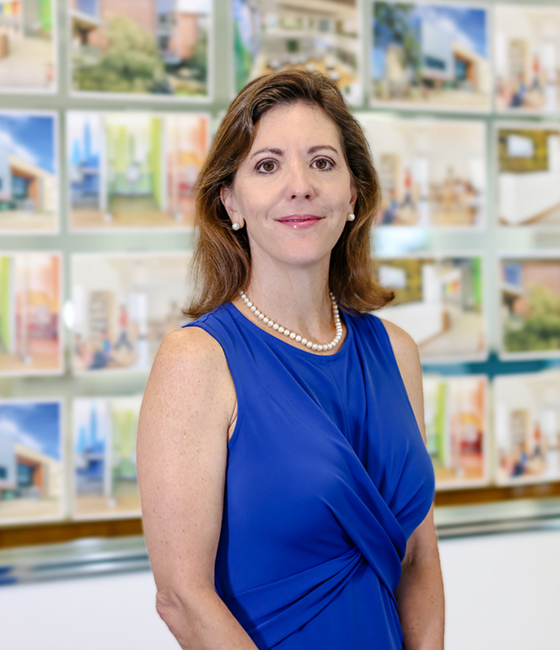 Wendy Heger
AIA, LEED AP BD+C, WELL AP
Principal / Client Development Director
Biography
Wendy engages with leaders to advance business development for Page's Houston office with a focus on the Civic market sector. Firmwide, she manages Page's Housing / Hospitality sector. She also oversees civic and academic projects. Wendy joined Page with 10 years of architectural experience with public projects, and eight years as a facilities owner's representative.

As the Assistant Director of Planning & Facilities for the Houston Public Library, Wendy applied library programming, operational needs, and design standards to capital projects, including the $25 million restoration and addition to the 1926 Julia Ideson Building. She oversaw planning and completion of maintenance and improvements for the library system, comprised of 38 neighborhood libraries and three special collections libraries.

Previously, she oversaw the City of Houston's General Services Department's Design & Construction Division, after managing the city's Parks to Standards program in the private sector. In this role, she managed the design and construction of building projects included in the City's Capital Improvement Plan. This included implementation of the US Green Building Council's LEED™ program for City projects.
Wendy also has served as project architect on projects for Rice University, University of Houston Downtown, and commercial office building renovations. Her organizational and problem-solving skills foster a smooth, successful experience for the client and contractors.
In 2013, she was appointed to the University of Texas Library Advisory Council, which brings together community and academic leaders who share a mutual commitment to champion the 17 libraries of the university system and their service to higher education and the citizens of Texas. This was an honor to be appointed to serve on behalf of her undergraduate alma mater. In 2019, Wendy was one of four architects on a 22-person committee tasked with updating school facility standards in the state of Texas.
Additionally, Wendy actively works to strengthen the architectural industry in Texas. She has served as the Vice President for Advocacy for Texas Society of Architects (TSA) and other past TSA positions include both Executive Trustee of TSA Architects Committee and Chair of the Advocacy Houston Advisory Committee. She also was a member and eventual President of the Architecture Center of Houston (ArCH) Foundation Board. Prior to that, Wendy served as the Public Relations member of the AIA Houston Board.
After receiving her Bachelor of Arts from the University of Texas Honors Program, also known as Plan II, Wendy obtained a Masters in Architecture from the Massachussets Institute of Technology.
Representative Projects
Publications & News