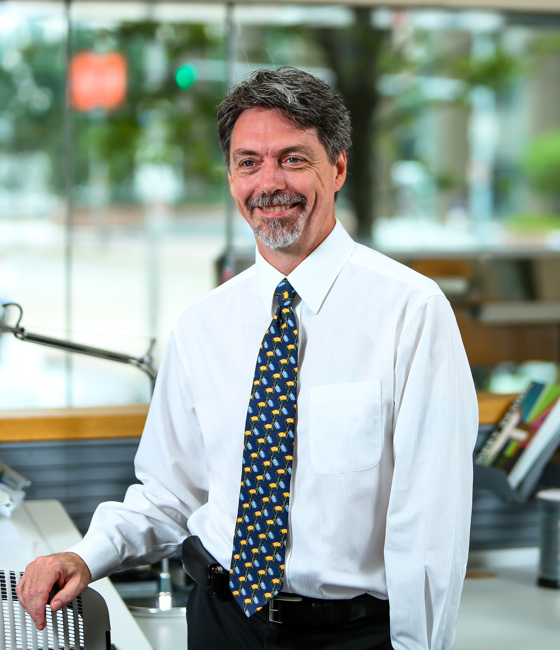 William Echterling
AIA
Senior Associate / Senior Project Architect
Biography
Bill has over twenty years of experience in the architecture profession, with a primary focus in construction documents and construction administration. Following his graduation from the University of Colorado in 1990, Bill moved to Casper, Wyoming where he worked for the state's leading architecture firm for more than a decade. Prior to and during college, Bill spent time in the United States Army and the Army Reserve.

While on vacation in Lake Tahoe, Bill met his wife, and soon after in 2001, they made the move to Houston. Bill interviewed with Page prior to his move, but the timing just didn't work out. In 2004, he again had the opportunity to join the Page team and jumped at the chance. Thoroughly committed to each project in which he takes part, Bill views each day as an opportunity to make an impact on a project's success.

Since joining Page, Bill was fortunate enough to be selected to serve on an AIA committee for the Architectural Registration Examination where he participated in a pilot program to enlist young architects in the test writing process. The program was a success, and fresh ideas and insight from younger architects were always welcomed by the committee. Portions written by Bill were included in the National Council of Architectural Registration Boards (NCARB) exam that all architects must pass.
Bill's projects vary widely, ranging from education facilities to recreation centers and research laboratories. Although he admits it is difficult to pick a favorite, Bill says he truly enjoyed working on the additions and renovations for the Recreation Center at the University of Texas at Arlington. "The project was complex, challenging, and had a very short time frame for completion," he explains. The final project is exceptional and was the recipient of various awards. Bill says he enjoyed "interaction with the various user groups and facilities people" who "made this a wonderful experience and a very successful project".
In his free time on the weekends, Bill enjoys spending time in the yard, gardening, and cooking. He says gardening and cooking are similar to architecture because they follow similar paths from a seed or idea, to assembling the components, following their growth, and enjoying the final outcome.
Representative Projects
Publications & News